The most effective way to obtain a high band score on your IELTS test is to prepare intensively 1 month before the actual test date. Consequently, your IELTS knowledge and skills should peak on the day of the IELTS test.
That being said, here are the 10 most important tips and tricks to help you increase your IELTS test scores immediately.
10 most important tips to successfully prepare for ielts test in just one month
Moving forward to the 10 most important tips for IELTS preparation in one month:
Hire a private tutor or join an IELTS Preparation Course. IELTSin1Month is an IELTS test preparation service which prepares you to write the IELTS test in just 1 month.
Buy a commercially available book. The most popular books are published by Cambridge and are available on Amazon.com
Watch IELTS youtube videos. There are many videos on youtube which provides helpful tips and suggestions on how to prepare to write the IELTS exam in one month.
Write practice exams. Many practice exams are available through commercial service providers such as IELTSin1Month.
Look at the practice questions and answers on the official IELTS website.
And Here are your next 5 tips...
Sign up for a free online course. Did you know that IELTSin1Month offers a Free Introductory Course online?
Then, join a Facebook Group where you can meet other students writing the IELTS exam. IELTSin1Month started a Facebook Group called "Free IELTS Information Group" which can be found at http://www.facebook.com/groups/ieltsin1month
Time yourself when you are writing practice exams. By putting yourself under exam-like situations, you will not be surprised when you write the actual exam after you prepare intensely for one month.
Consider choosing the Computerized test over the Written format. Many students have found that the computerized test was an easier test to write, especially since it allows you to type the writing portion of the exam on the computer rather than writing it by hand.
Finally, prepare your IELTS study plan and schedule so that you peak right before writing the IELTS exam. This may include enrolling in a 1 month intensive IELTS preparation program which ends just before the IELTS exam begins. IELTSin1Month has developed a model study plan to ensure that you peak at exactly the most optimum time to write the IELTS test.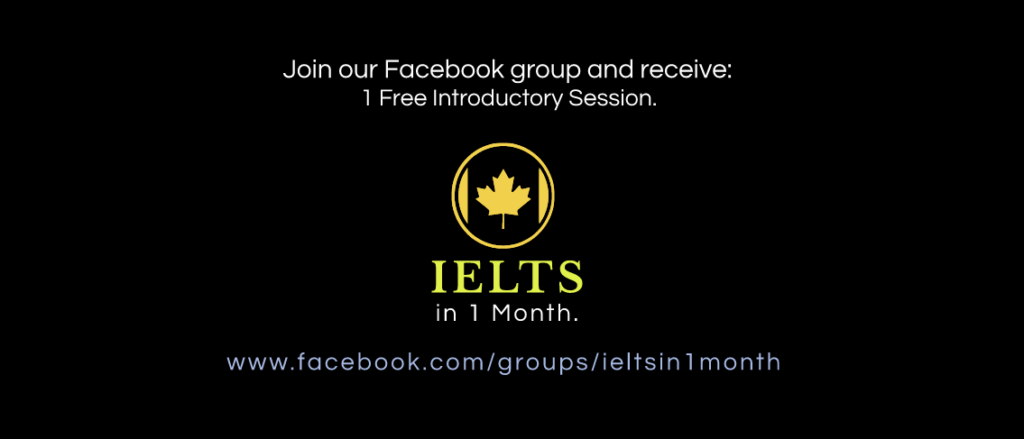 IELTSin1Month provides a free introductory session for any student joining their Facebook Group. As such, this is a great way for IELTS test takers to learn more about the IELTS test.
IELTS.IN.1.MONTH. – CLASS SCHEDULE - prepare for ielts test in one month
Create a 1 Month study plan
The IELTS test is comprised of 4 parts: Listening, Reading, Writing, and Speaking, which is in reality a ton of material!
While some students opt to borrow or purchase commmercial books and study guides, many students simply do not have the time or the experience to develop the other aspects of their IELTS test taking abilities, such as preparing their own study plan, allocating and managing their time, and develop the skill-specific requirements to answer all of the questions on the IELTS test within the alloted time.
Let IELTSin1Month create a study plan for you
Studies have shown that test-takers tend to maximize their test scores when they "peak" at the right time. Consequently, the IELTSin1Month intensive 1 month Masterclass prepares you for the IELTS test in one month, and is designed so that test-takers can write the IELTS test immediately after the course is completed.
Our 1 Month MASTERCLASS STUDY PLAN is as follows:
Finally, attend a free online seminar to learn about the general format of the IELTS test, and task types. You can also try out a real IELTS test question with an expert instructor. Start your IELTS journey now!